Welcome to the Laténium, the largest archaeological museum in Switzerland!
Located on the shores of Lake Neuchâtel, the museum and its archaeological park tell you about 500 centuries of regional history.
The archaeological park is freely accessible.
BREAKING NEWS: the Celts of La Tène area, in the heart of the museum, is undergoing work and can be partially visited.
Opening times
Museum
10 a.m. – 5 p.m. from Tuesday to Sunday.
Closed on Mondays.
Archaeological park
Free access
Admission fees
| | |
| --- | --- |
| Adults | CHF 9.- |
| Students, apprentices, seniors, unemployed, disabled | CHF 5.- |
| Children (from 7 to 16) | CHF 4.- |
| FAMILIES (2 adults + children) | CHF 20.- |
How to get there
The Laténium is located in Hauterive, on the shores of Lake Neuchâtel (3 km from the centre of Neuchâtel), it can be reached by train, bus, car but also on foot and by bike.
Next events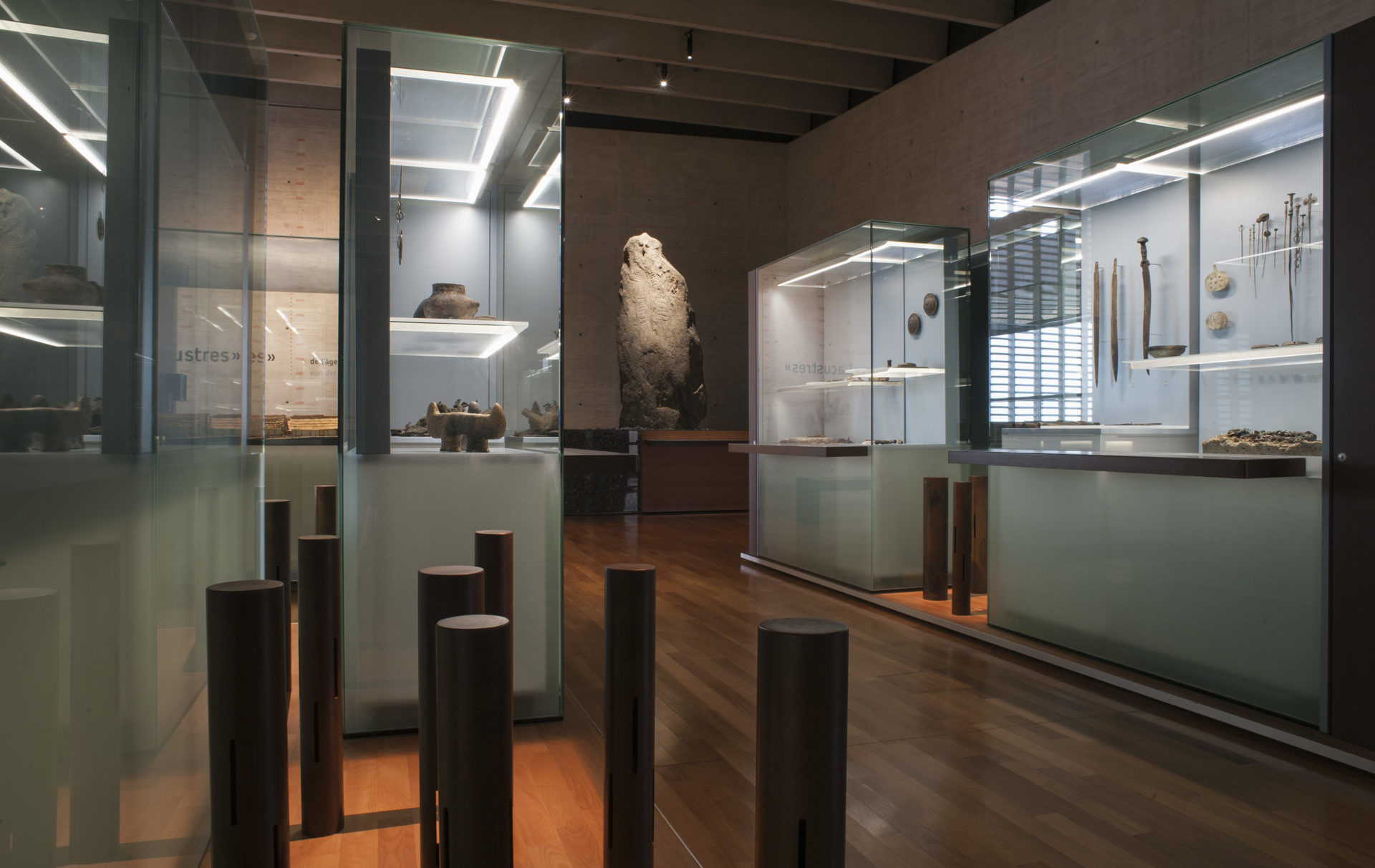 SITES PALAFITTIQUES PRÉHISTORIQUES AUTOUR DES ALPES - visite guidée
A l'occasion des Journées du Patrimoine mondial de l'UNESCO, découvrez le quotidien des habitants des villages lacustres du Néolithique et de l'âge du Bronze.
Les collections présentées au Laténium, les habitats reconstitués dans le parc archéologique et les études scientifiques conduites ici font de notre musée un pôle majeur pour la mise en valeur et la sauvegarde de ce patrimoine archéologique d'importance mondiale.
Visite gratuite, sans inscription préalable.
De Préfargier à La Tène : balade archéologique
L'intérêt architectural de l'ancien hôpital psychiatrique de Préfargier est largement reconnu. On ignore toutefois souvent la valeur patrimoniale du site archéologique où celui-ci a été implanté. Dès le milieu du 19e siècle, les rives du bout du lac de Neuchâtel ont révélé d'innombrables vestiges préhistoriques, qui n'ont été que partiellement explorés. C'est surtout le site de La Tène qui doit retenir l'attention. Ce site est en effet le gisement de référence pour le second âge du Fer européen. Mondialement célèbre, La Tène constitue un véritable « lieu de mémoire », qui a inspiré de nombreux artistes-peintres, des écrivains, etc.
Au cours de cette balade le long des rives du splendide parc de Préfargier, Marc-Antoine Kaeser, directeur du Laténium, évoquera l'impact paysager majeur de la Correction des Eaux du Jura (1868-1879) et les fluctuations historiques de la ligne de rivage du lac de Neuchâtel. Nous nous déplacerons ensuite jusqu'à la plage du camping, où il présentera le site de La Tène, qui est mis à l'honneur dans l'exposition "Entre deux eaux : La Tène, lieu de mémoire".
La balade est gratuite.
Inscription obligatoire au 032 889 69 17 / inscriptions.latenium@ne.ch avant le jeudi 23 juin en nous laissant vos coordonnées : nom, prénom et numéro de téléphone portable.
| | |
| --- | --- |
| Time : | From 14h00 to 16h00 |