Opening times, admission fees and access
As of Monday 13 September, the health pass is compulsory to visit the Laténium.
The archaeological park is free to enter.
Museum opening times
Open from Tuesday to Sunday 10.00-17.00.
Closed on Mondays.
The Laténium is closed on 25th December and 1st January.
The Laténium is open on Easter Monday and Whit Monday.
Archaeological park
Free entry
Audio guide
If you would like to be guided through the permanent exhibition, you might like to consider renting an audio guide: you will learn more about 50,000 years in less than an hour!
Price : CHF 5.-
UNESCO World Heritage Ticket
Discover amazing treasures with the UNESCO World Heritage ticket!
Book your ticket online
Extend your visit
Extend your visit to the museum by discovering sites and landscapes that echo the collections of the Laténium.
Admission fees
| | |
| --- | --- |
| Adults | CHF 9.- |
| Students, seniors, unemployed | CHF 5.- |
| Children (from 7 to 16 years) | CHF 4.- |
| Families (2 adults + children) | CHF 20.- |
Group rates, from 10 people upwards
| | |
| --- | --- |
| Adults | CHF 6.- |
| Students, seniors, unemployed  | CHF 4.- |
| Children (from 7 to 16 years) | CHF 2.- |
Free admission
Every first Sunday of the month. And on that day at 11:00, we offer a free tour that sheds light on a particular object in the museum or the park.
Swiss museum pass, Raiffeisen, ICOM, AMS, Cultural GA,  Neuchâtel Tourist card, Neuchâtel museum card,
Archéone member "Laténium" coin (on sale at the museum cash desk).
Care-givers or people accompanying people with disabilities.
Getting to the museum
Laténium
Parc et musée d'archéologie
Espace Paul Vouga
2068 Hauterive
The Laténium is located in Hauterive, on the shores of Lake Neuchâtel (3 km from Neuchâtel town centre).
By public transport 
By train
Railway station CFF Neuchâtel then funicular (Fun'ambule) to the university and bus line 101in the direction Marin, "Laténium" bus stop
Regional railway station BLS St-Blaise-Lac followed by a 20 min-walk to the Laténium using the path along the lake shore.
By bus
Line 101, "Laténium" bus stop
By ship
From spring to autumn the trip from Neuchâtel to Hauterive is free of charge. For the return trip passengers have to show their entry ticket to the museum.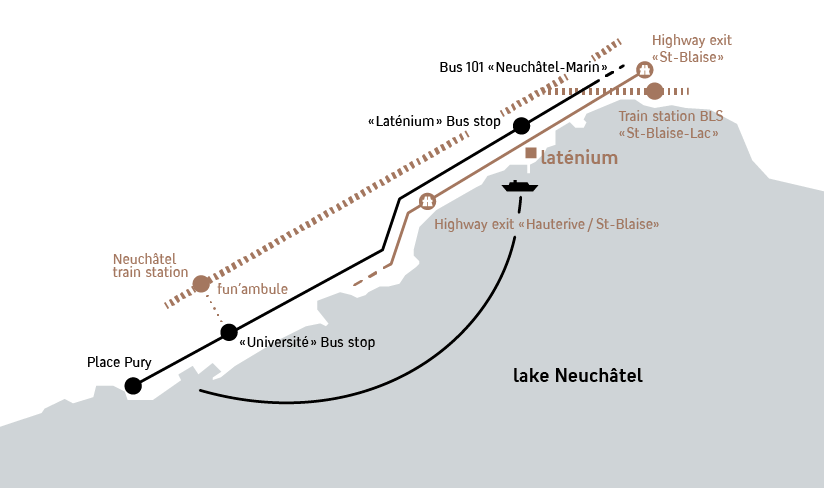 Soft mobility
Path along the lake from Neuchâtel or St-Blaise
A "Neuchâtelroule" station is available at the port at Hauterive (at the eastern entrance of the archaeological park).
By car
Parking at the port at Hauterive (fee charged).
From 1st April to 31st October CHF 1.- / 8.00-18.00.
From 1st November to 31st March CHF 0.50 / 8.00-18.00.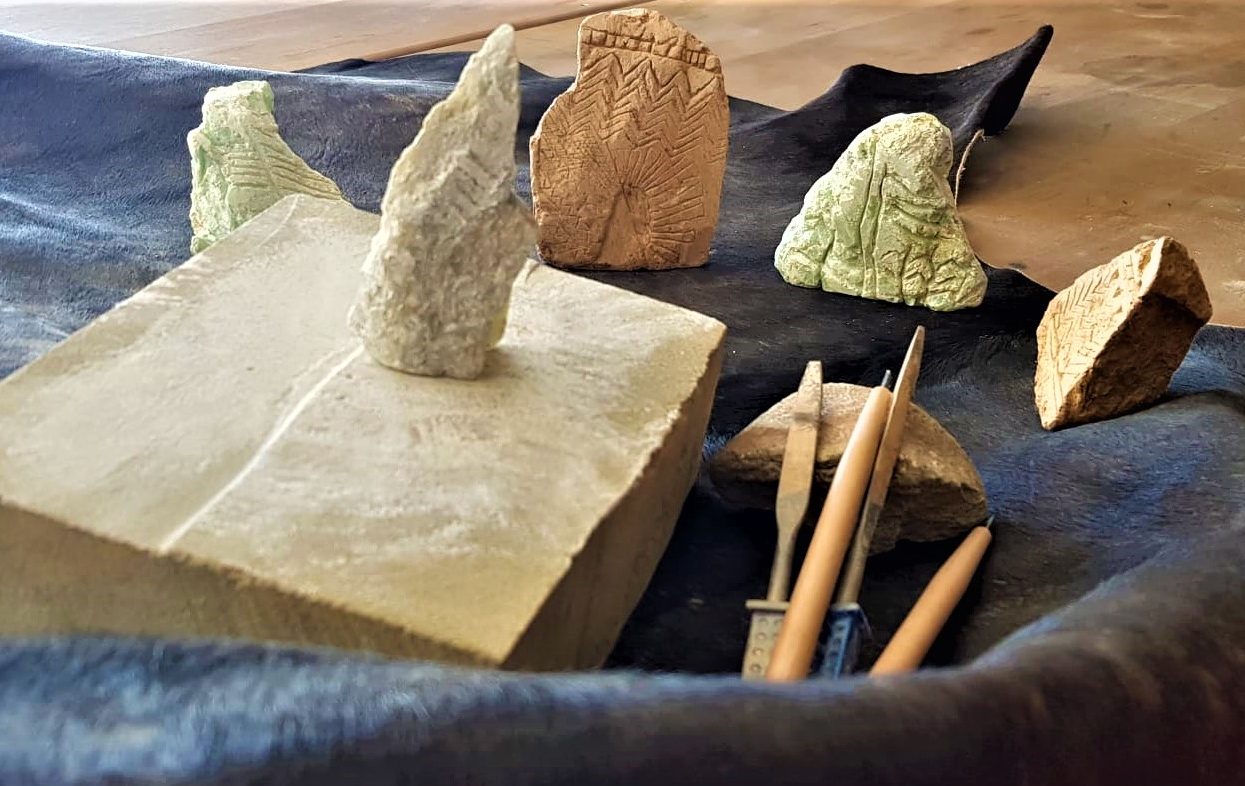 A la découverte des menhirs
Découvrez les menhirs neuchâtelois conservés au Laténium puis créez votre menhir en taille réduite.
Sur inscription : 032 889 69 17
Dès 9 ans
Tarif : CHF 10.-/participant
| | |
| --- | --- |
| Time : | From 14h00 to 15h30 |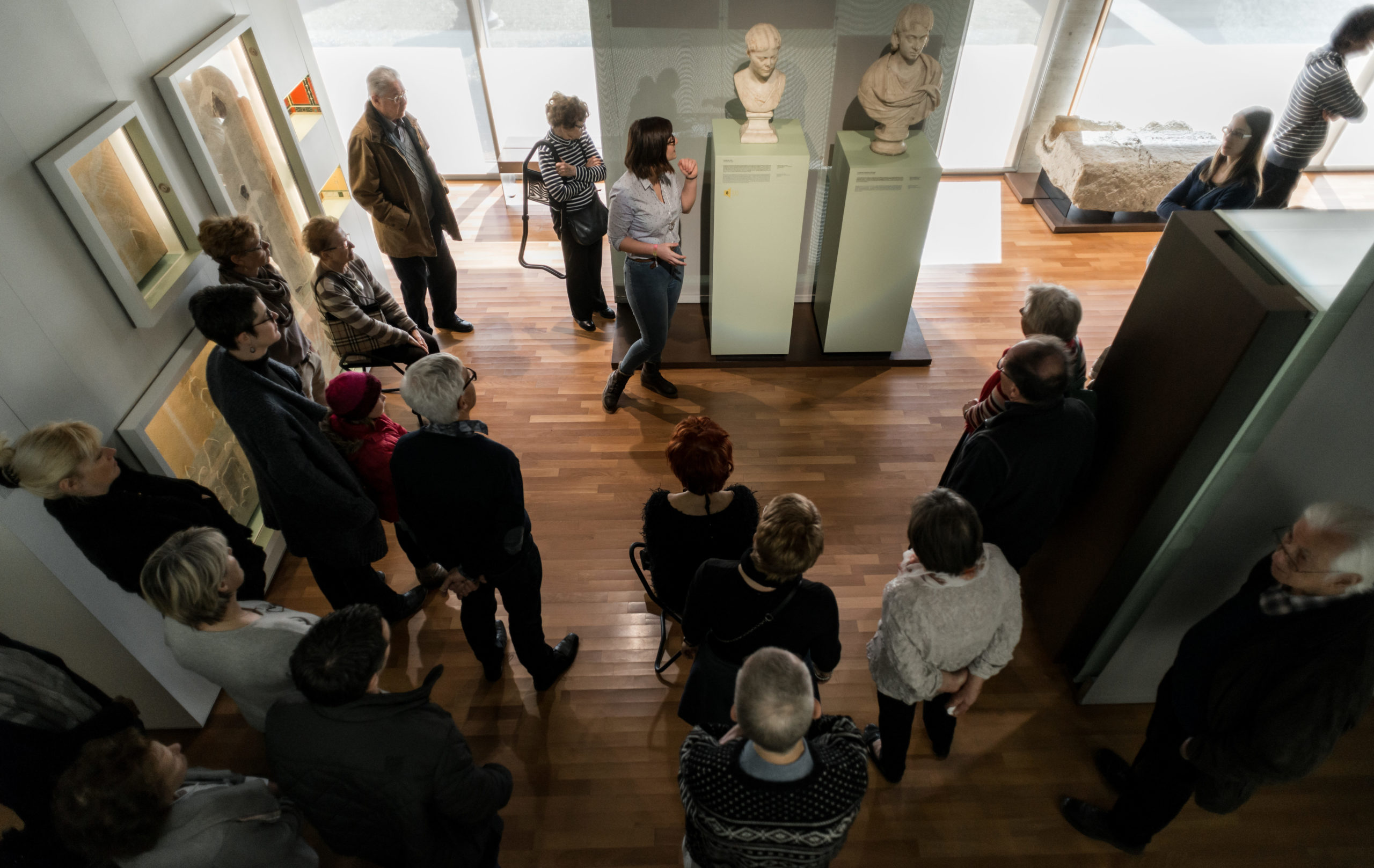 Visite gratuite mensuelle
Les objets de l'ombre
Tous les premiers dimanches du mois, des guides vous emmènent gratuitement à la découverte d'objets particuliers. En écho avec l'exposition temporaire, ils vous feront découvrir cette année des pièces singulières et insolites, parfois oubliées, de nos collections.
Tarifs : gratuit
La visite guidée se déroule selon les conditions sanitaires en vigueur.
| | |
| --- | --- |
| Time : | From 11h00 to 11h30 |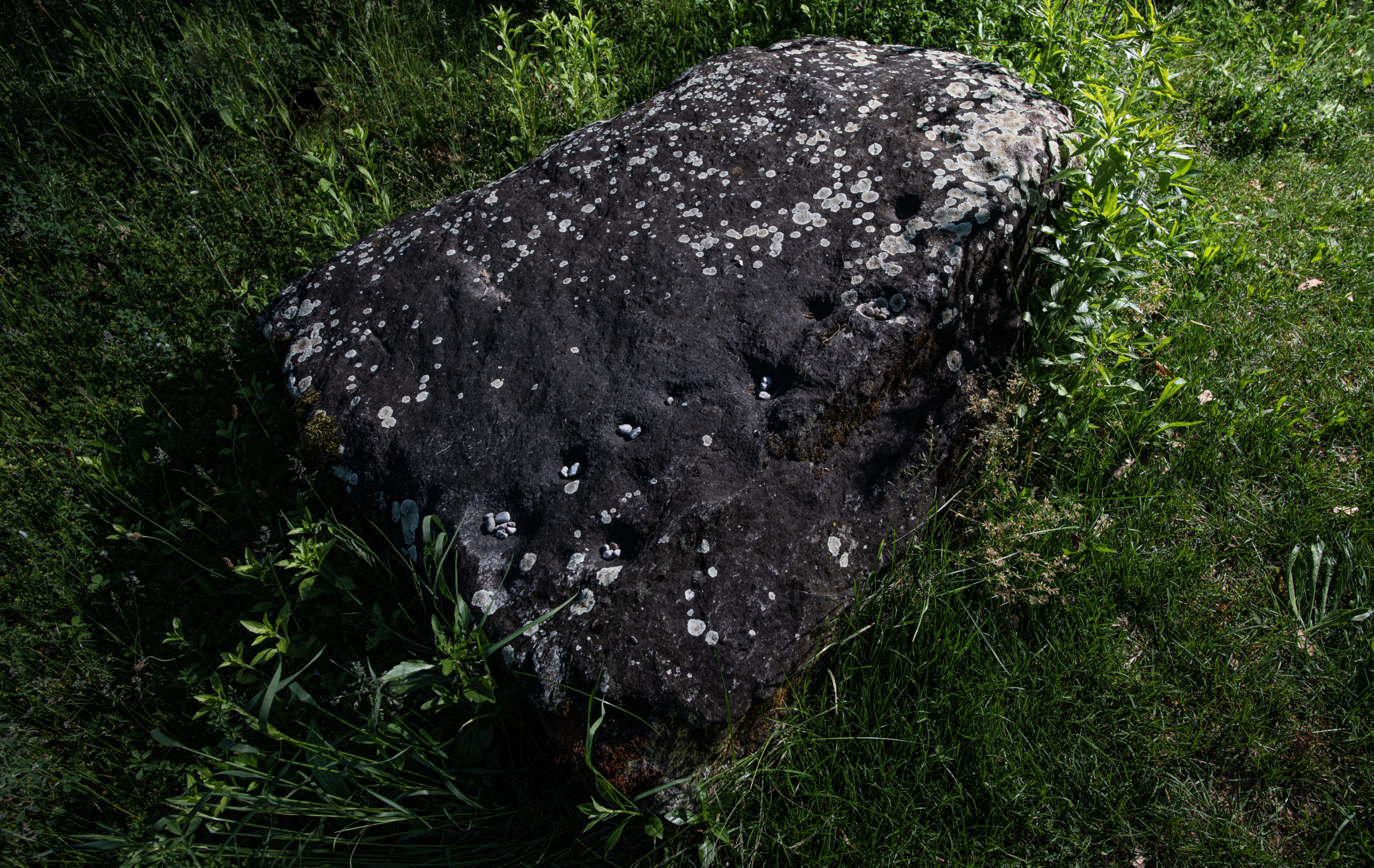 Visite commentée dans le parc archéologique
Adossé aux flancs du Jura, le parc archéologique du Laténium raconte l'histoire des relations entre nos ancêtres et leur environnement, depuis la fin des temps glaciaires. Lieu de promenade idéal, il associe la restitution d'écosystèmes des différents âges à des reconstitutions grandeur nature de monuments authentiques.
Découvrez une particularité du parc archéologique en compagnie de Marc-Antoine Kaeser, directeur du Laténium.
La visite a lieu à l'extérieur uniquement, le certificat Covid n'est pas obligatoire.
Visite gratuite, départ sur la terrasse du Laténium.
| | |
| --- | --- |
| Time : | From 12h30 to 13h15 |