Opening times, admission fees and access
Museum opening times
Open from Tuesday to Sunday 10.00-17.00.
Closed on Mondays.
The Laténium is closed on 25th December and 1st January.
The Laténium is open on Easter Monday and Whit Monday.
Archaeological park
Free entry
Audio guide
If you would like to be guided through the permanent exhibition, you might like to consider renting an audio guide: you will learn more about 50,000 years in less than an hour!
Price : CHF 5.-
UNESCO World Heritage Ticket
Discover amazing treasures with the UNESCO World Heritage ticket!
Book your ticket online
Extend your visit
Extend your visit to the museum by discovering sites and landscapes that echo the collections of the Laténium.
Admission fees
| | |
| --- | --- |
| Adults | CHF 9.- |
| Students, seniors, unemployed | CHF 5.- |
| Children (from 7 to 16 years) | CHF 4.- |
| Families (2 adults + children) | CHF 20.- |
Group rates, from 10 people upwards
| | |
| --- | --- |
| Adults | CHF 6.- |
| Students, seniors, unemployed  | CHF 4.- |
| Children (from 7 to 16 years) | CHF 2.- |
Free admission
Every first Sunday of the month. And on that day at 11:00, we offer a free tour that sheds light on a particular object in the museum or the park.
Swiss museum pass, Raiffeisen, ICOM, AMS, Cultural GA,  Neuchâtel Tourist card, Neuchâtel museum card,
Archéone member "Laténium" coin (on sale at the museum cash desk).
Care-givers or people accompanying people with disabilities.
Getting to the museum
Laténium
Parc et musée d'archéologie
Espace Paul Vouga
2068 Hauterive
The Laténium is located in Hauterive, on the shores of Lake Neuchâtel (3 km from Neuchâtel town centre).
By public transport 
By train
Railway station CFF Neuchâtel then funicular (Fun'ambule) to the university and bus line 101in the direction Marin, "Laténium" bus stop
Regional railway station BLS St-Blaise-Lac followed by a 20 min-walk to the Laténium using the path along the lake shore.
By bus
Line 101, "Laténium" bus stop
By ship
From spring to autumn the trip from Neuchâtel to Hauterive is free of charge. For the return trip passengers have to show their entry ticket to the museum.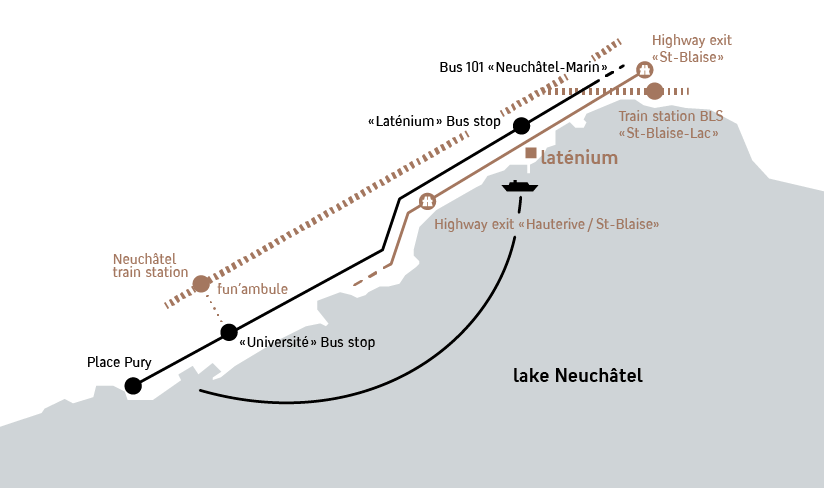 Soft mobility
Path along the lake from Neuchâtel or St-Blaise
A "Neuchâtelroule" station is available at the port at Hauterive (at the eastern entrance of the archaeological park).
By car
Parking at the port at Hauterive (fee charged).
From 1st April to 31st October CHF 1.- / 8.00-18.00.
From 1st November to 31st March CHF 0.50 / 8.00-18.00.
VOUIPE & MARION GEISLER - Outside
Après avoir arpenté les moindres recoins du parc archéologique avec ses capteurs, Vouipe joue avec ces sons enregistrés pour composer une création sonore inédite, diffusée dans le musée. La danseuse Marion Geisler vient illustrer cette composition par une performance d'improvisation originale et déstructurée, aux rythmes des enregistrements et du coucher de soleil. Une collaboration spécialement travaillée pour l'occasion !
VOUIPE, live électro-instrumental dès 20h15
Pour clore cette l'édition 2021 du Laténium estival, Vouipe revient dans le parc pour proposer ses dernières créations, réunies dans l'album Lichen. À l'aide de ses capteurs, le musicien s'est isolé dans des recoins familiers quoiqu'oubliés afin de créer la base musicale d'une électro organique puissante et enivrante.
En introduction à la performance OUTSIDE, profitez d'une visite commentée par la directrice adjointe du Laténium dans l'espace de l'exposition « Des choses » à 18h et à 18h45. Dans l'observation de cas particuliers, Géraldine Delley vous fera saisir les limites fluctuantes entre nature et culture : un oursin transformé en objet d'une collection de curiosités, ou un fossile de coquillage dégagé sur un silex taillé en sont des exemples. À travers une scénographie organique, découvrez différents rapports qui lient les objets archéologiques à leur environnement.
Profitez du panorama des Alpes et de la terrasse du Café du Laténium pour vous restaurer durant la soirée.
Tarifs : 18.- / 11.- (enfants, Archéone, étudiant.e.s, AVS/AI, au chômage)
Réservation indispensable : inscriptions.latenium@ne.ch / 032 889 69 17 en précisant vos nom et prénom, votre no de téléphone et votre code postal.
From 13 July 2021 to 06 August 2021
Laténium estival
Du 13 juillet au 6 août, le Laténium proposera une programmation estivale surprenante pour vivre des moments de détente, d'émotions et de découvertes dans le cadre idyllique de son parc archéologique.
| | |
| --- | --- |
| Time : | From 10h00 to 17h00 |
From 03 August 2021 to 06 August 2021
Village préhistorique
Prenez part à la vie d'un village préhistorique en famille ! Installé dans le parc archéologique, le village, animé par nos guides, propose aux enfants accompagnés de leurs parents de participer à la construction de maisons préhistoriques, d'apprendre à façonner un bijou ou modeler de l'argile.
Tarifs: CHF 5.-/enfant (accès au musée compris). Inscription préalable obligatoire au 032 889 69 17. Nombre d'adultes limité selon l'affluence et en raison de la situation sanitaire.
En cas de pluie, l'atelier se déroulera à l'intérieur.
| | |
| --- | --- |
| Time : | From 14h00 to 16h30 |