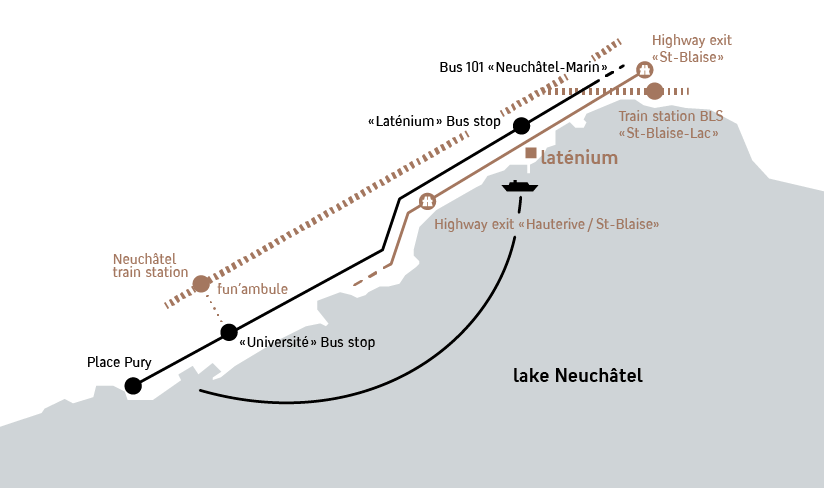 Laténium
Parc et musée d'archéologie
Espace Paul Vouga
2068 Hauterive
The Laténium is located in Hauterive, on the shores of Lake Neuchâtel (3 km from Neuchâtel town centre).
By public transport
By train
Railway station CFF Neuchâtel then funicular (Fun'ambule) to the university and bus line 101in the direction Marin, "Laténium" bus stop
Regional railway station BLS St-Blaise-Lac followed by a 20 min-walk to the Laténium using the path along the lake shore.
By bus
Line 101, "Laténium" bus stop
By ship
From spring to autumn the trip from Neuchâtel to Hauterive is free of charge. For the return trip passengers have to show their entry ticket to the museum.
By car
Parking at the port at Hauterive (fee charged).
From 1st April to 31st October CHF 1.- / 8.00-18.00.
From 1st November to 31st March CHF 0.50 / 8.00-18.00.
Soft mobility
Path along the lake from Neuchâtel or St-Blaise
A "Neuchâtelroule" station is available at the port at Hauterive (at the eastern entrance of the archaeological park).
Accessibility
The Latenium is accessible to people with reduced mobility and wheelchair users. Ramps in the museum facilitate access to the spaces. An elevator adapted for wheelchairs provides access to the museum floors. A wheelchair is available at the reception desk. On the ground floor there is a wheelchair-accessible toilet.
Some areas of the park are not accessible to people with reduced mobility.
Parking for people with reduced mobility
Several parking spaces are reserved for people with reduced mobility in the car park of the port of Hauterive. A space is available at the service entrance of the museum (north of the building).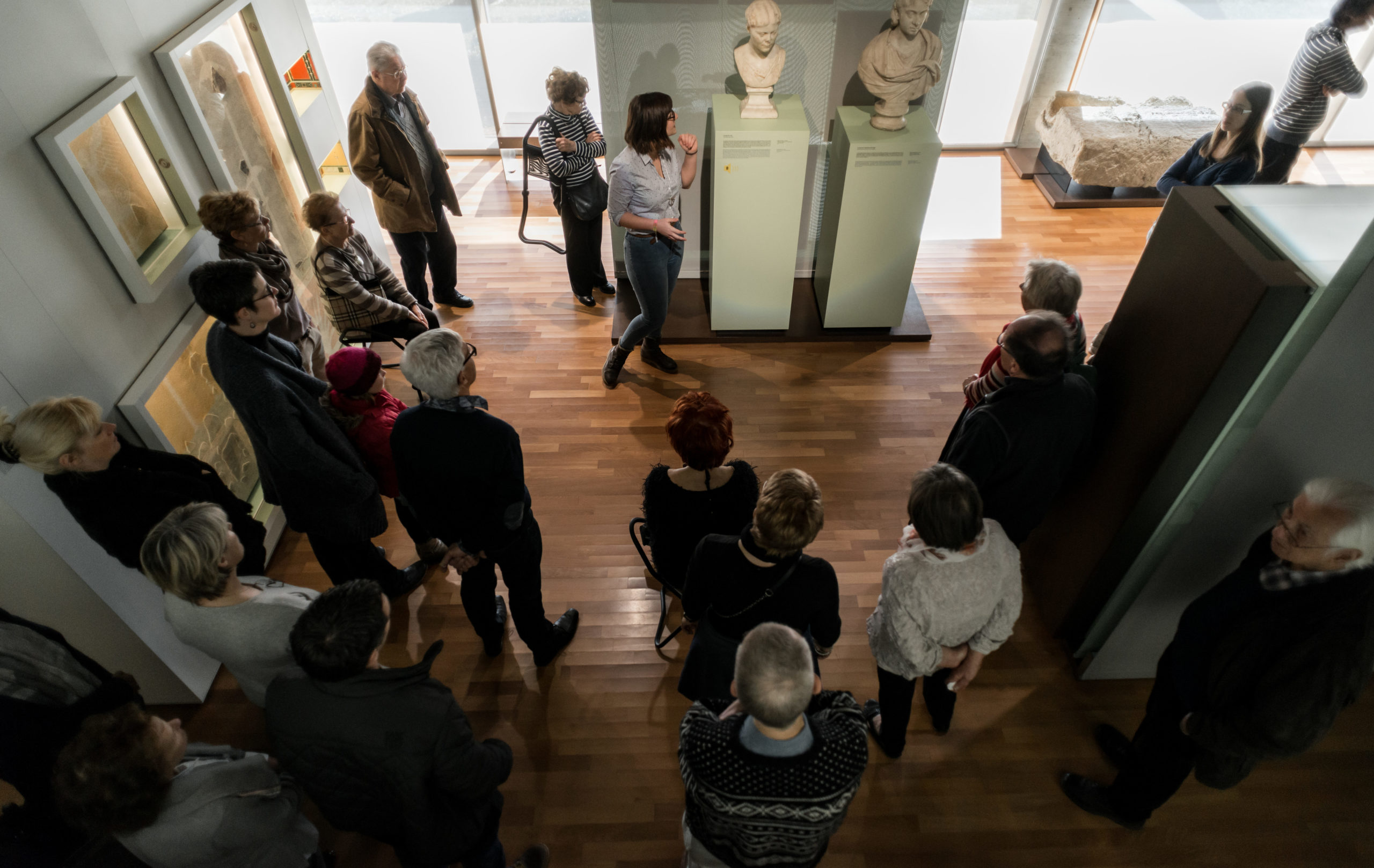 Gratisführung auf Deutsch
Lassen Sie sich, wie jeden ersten Sonntag des Monats, überraschen und entdecken Sie ein besonderes Objekt unserer Ausstellung. Dieses Jahr stellen Euch unsere Führer*innen Gegenstände vor, die in der Regel wenig Beachtung finden oder sich durch etwas Ungewöhnliches auszeichnen.
Ohne Voranmeldung
Führung auf Deutsch
Das Tragen einer Maske ab dem 12. Lebensjahr und die Aufnahme von Kontaktinformationen sind Pflicht
| | |
| --- | --- |
| Time : | From 11h30 to 12h00 |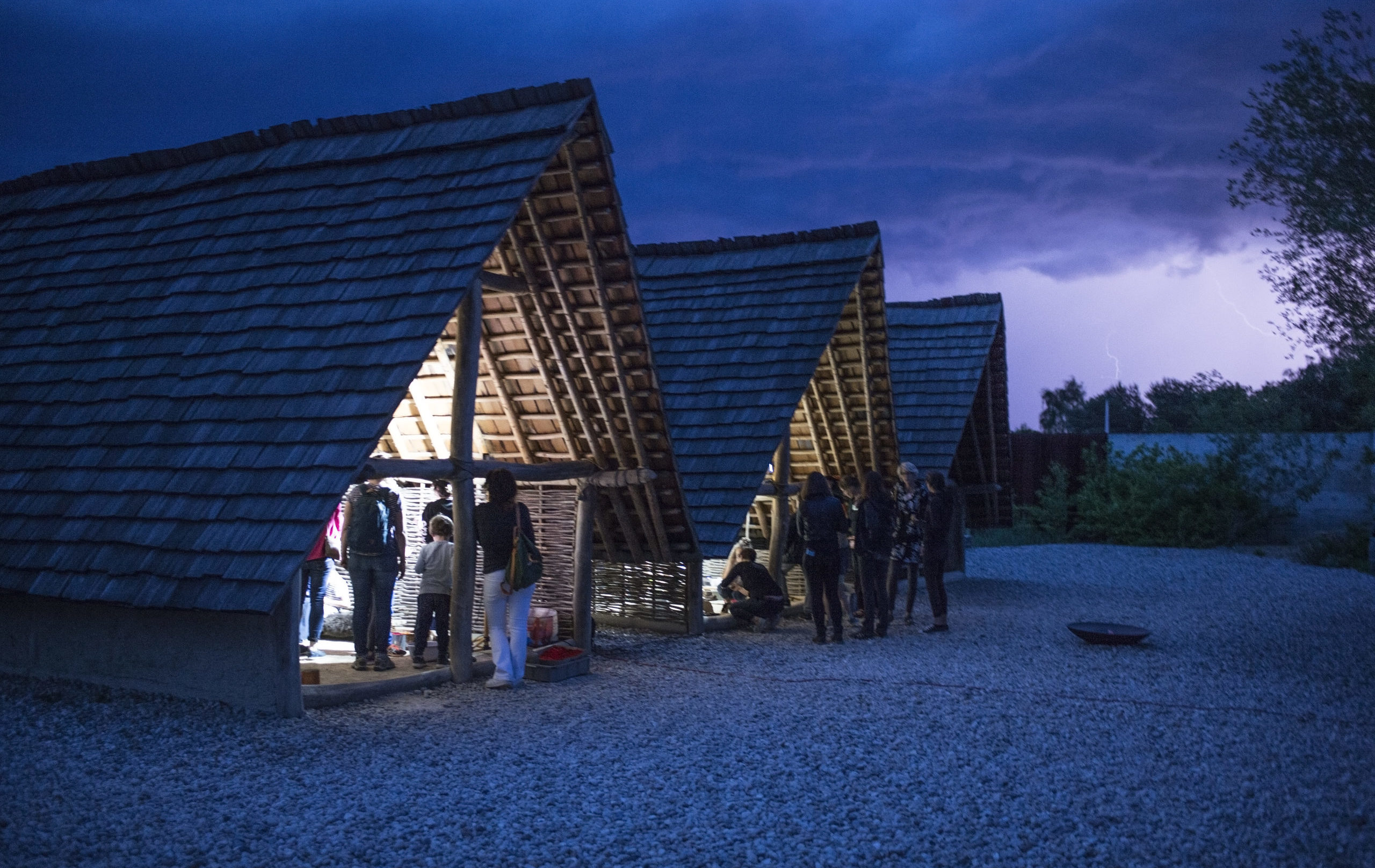 Nuit des musées
Des rencontres singulières
Des traces, des choses, des témoins. Durant cette nuit, saisissez les histoires que les objets vous racontent: collections bizarres, amulettes magiques ou encore objets perdus. Entre visites volantes, ateliers créatifs et performance participative, découvrez la nouvelle exposition temporaire "Des choses" et rapprochez-vous des personnes d'hier en prenant conscience d'aujourd'hui.
| | |
| --- | --- |
| Time : | From 18h00 to 00h00 |
Journée des musées
Des rencontres singulières
La nouvelle exposition temporaire présente des objets archéologiques déroutants, dérangeants: des "cas particuliers" qui nous ramènent à la banalité du quotidien de nos prédécesseurs, à leur intimité voire à leur univers mental d'ordinaire réputé difficile à cerner ! À travers l'émotion, la sensibilité et la poésie, découvrez des vestiges matériels peu ordinaires, dont la singularité les confine souvent au registre de l'anecdotique ou du "divers".
| | |
| --- | --- |
| Time : | From 10h00 to 17h00 |