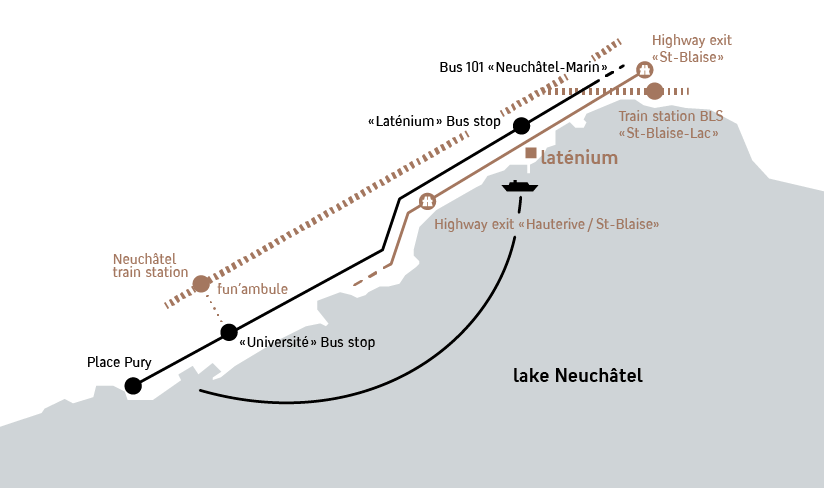 Laténium
Parc et musée d'archéologie
Espace Paul Vouga
2068 Hauterive
The Laténium is located in Hauterive, on the shores of Lake Neuchâtel (3 km from Neuchâtel town centre).
By public transport
By train
Railway station CFF Neuchâtel then funicular (Fun'ambule) to the university and bus line 101in the direction Marin, "Laténium" bus stop
Regional railway station BLS St-Blaise-Lac followed by a 20 min-walk to the Laténium using the path along the lake shore.
By bus
Line 101, "Laténium" bus stop
By ship
From spring to autumn the trip from Neuchâtel to Hauterive is free of charge. For the return trip passengers have to show their entry ticket to the museum.
By car
Parking at the port at Hauterive (fee charged).
From 1st April to 31st October CHF 1.- / 8.00-18.00.
From 1st November to 31st March CHF 0.50 / 8.00-18.00.
Soft mobility
Path along the lake from Neuchâtel or St-Blaise
A "Neuchâtelroule" station is available at the port at Hauterive (at the eastern entrance of the archaeological park).
Accessibility
The Latenium is accessible to people with reduced mobility and wheelchair users. Ramps in the museum facilitate access to the spaces. An elevator adapted for wheelchairs provides access to the museum floors. A wheelchair is available at the reception desk. On the ground floor there is a wheelchair-accessible toilet.
Some areas of the park are not accessible to people with reduced mobility.
Parking for people with reduced mobility
Several parking spaces are reserved for people with reduced mobility in the car park of the port of Hauterive. A space is available at the service entrance of the museum (north of the building).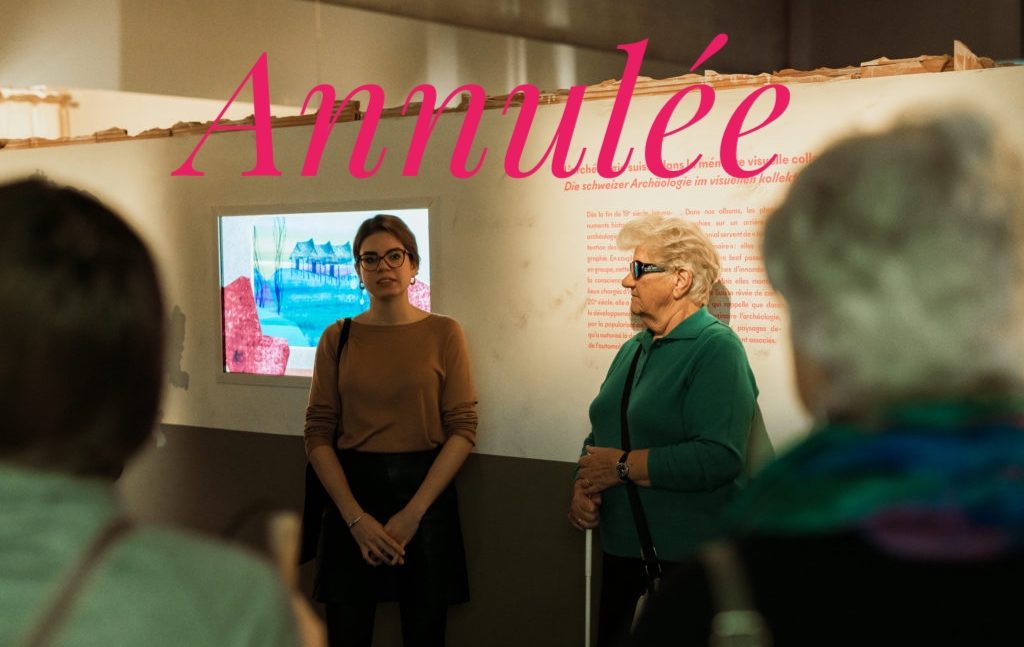 Journée inclusive
Porteur du label « Culture Inclusive », le Laténium propose durant cette journée des prestations créées en collaboration avec des personnes en situation de handicap. Le programme est composé de visites sensorielles et de visites guidées de l'exposition en langue des signes. Un dialogue entre objets archéologiques, culture celtique et différentes visions du passé.
Programme détaillé à venir.
| | |
| --- | --- |
| Time : | From 10h00 to 17h00 |
Visite gratuite
Laissez-vous surprendre par le choix du guide qui vous emmène chaque premier dimanche du mois à la découverte d'un objet des temps celtiques.
La visite se déroule dans l'exposition "Celtes – Un millénaire d'images". Elle est limitée à 20 personnes. Pour permettre au plus grand nombre d'y participer, la visite est également proposée à 11h45.
L'entrée et la visite sont gratuites. INSCRIPTION OBLIGATOIRE : 032 889 69 17 / inscriptions.latenium@ne.ch
Le port du masque est obligatoire.
| | |
| --- | --- |
| Time : | From 11h00 to 11h30 |
Finissage de l'exposition "Celtes Un millénaire d'images"
Programme détaillé à venir.
| | |
| --- | --- |
| Time : | From 10h00 to 17h00 |