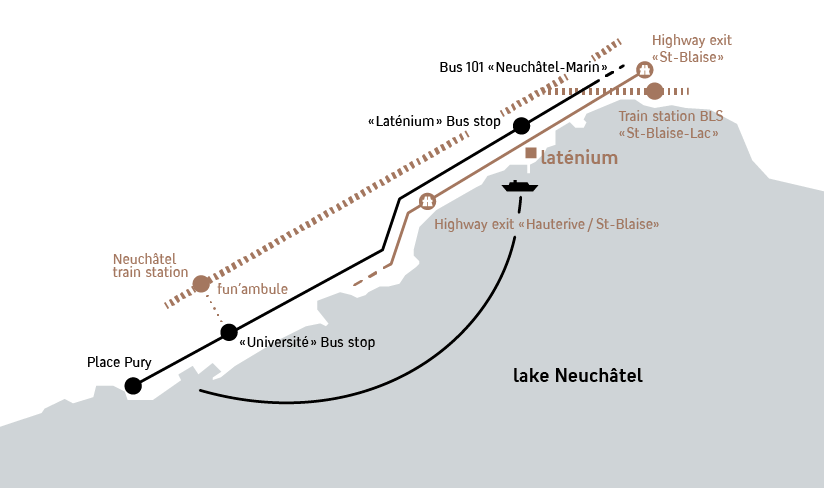 Laténium
Parc et musée d'archéologie
Espace Paul Vouga
2068 Hauterive
The Laténium is located in Hauterive, on the shores of Lake Neuchâtel (3 km from Neuchâtel town centre).
By public transport
By train
Railway station CFF Neuchâtel then funicular (Fun'ambule) to the university and bus line 101in the direction Marin, "Laténium" bus stop
Regional railway station BLS St-Blaise-Lac followed by a 20 min-walk to the Laténium using the path along the lake shore.
By bus
Line 101, "Laténium" bus stop
By ship
From spring to autumn the trip from Neuchâtel to Hauterive is free of charge. For the return trip passengers have to show their entry ticket to the museum.
Schedules of the boat Hauterive-Neuchâtel
By car
Parking at the port at Hauterive (fee charged).
From 1st April to 31st October CHF 1.- / 8.00-18.00.
From 1st November to 31st March CHF 0.50 / 8.00-18.00.
Soft mobility
Path along the lake from Neuchâtel or St-Blaise
A "Neuchâtelroule" station is available at the port at Hauterive (at the eastern entrance of the archaeological park).
Accessibility
The Latenium is accessible to people with reduced mobility and wheelchair users. Ramps in the museum facilitate access to the spaces. An elevator adapted for wheelchairs provides access to the museum floors. A wheelchair is available at the reception desk. On the ground floor there is a wheelchair-accessible toilet.
Some areas of the park are not accessible to people with reduced mobility.
Parking for people with reduced mobility
Several parking spaces are reserved for people with reduced mobility in the car park of the port of Hauterive. A space is available at the service entrance of the museum (north of the building).
Visite gratuite
Nous sommes heureux de pouvoir reprendre le fil de nos visites gratuites du premier dimanche du mois.
Rendez-vous à 11h au Laténium pour une visite commentée qui se déroulera dans le respect des gestes barrière et de la distanciation sociale. Le thème de la visite variera en fonction de l'affluence du public.
L'entrée et la visite sont gratuites.
| | |
| --- | --- |
| Time : | From 11h00 to 11h30 |
Journée du Patrimoine mondial de l'UNESCO
COVID-19
Les Journées du Patrimoine mondial de l'UNESCO sont annulées.
| | |
| --- | --- |
| Time : | From 10h00 to 17h00 |
From 15 June 2020 to 21 June 2020
Journées de l'archéologie
Covid-19 oblige, les Journées européennes de l'archéologie auront lieu cette année sous une forme numérique. Le Laténium y participera par la diffusion de capsules vidéo consacrées aux différents métiers de l'archéologie.
Pour suivre cette actualité, rejoignez-nous dès le 15 juin sur nos réseaux sociaux ou inscrivez-vous à notre newsletter via le site internet du Laténium.
| | |
| --- | --- |
| Time : | From 10h00 to 17h00 |