"DES CHOSES", 28 MAY 2021 – 9 JANUARY 2022
The exhibition "Des choses" ("Things") will focus on disconcerting, or even disturbing archaeological finds, whose singularity often confines them to the register of anecdotal or "miscellaneous" : a small batch of white sand brought back 3000 years ago from a journey to the mountains and discovered in a lake-dwelling village, a yew stick roughly cut by a child to play with a bow 5000 years ago, a collection of fossil sea urchins whose shapes inspired the ornamentation of prehistoric artifacts, etc.
These "special cases" bring us back to the banality of the daily life of our predecessors, to their intimacy, or even to their mental universe – themes which are commonly considered difficult, or even impossible to grasp through the study of material remains. As a matter of fact, the evocative potential of these objects obliges archaeologists to confront the limits of their own scientific approach, and to approach the finds through other analytical grids, such as the emotional, the sensitive, the poetic, etc.
Between art and science, thanks to the interventions of a set designer, a literary writer, a visual artist and a musician, this exhibition follows a clear objective: demonstrating the strong narrative power of archaeological objects.
The cultural programme is adapted to the evolution of the health situation and progressively unveiled on the Laténium's agenda.
"Des choses. Une archéologie des cas à part", directed by Géraldine Delley, 448 pages, Laténium éd., Hauterive, 2021.
As a science of collection par excellence, archaeology has based much of its knowledge on the comparison and constitution of series of artefacts. Today, these two dimensions are still at the heart of the discipline's practice. But what is to be done with singular and unusual objects that are only valuable for themselves? The 51 contributions by archaeologists and historians gathered in this book offer original readings of such particular cases. Starting from the objects themselves and covering a very long chronological spectrum – from the Palaeolithic to the contemporary era – these original and stimulating insights challenge the dominant frameworks of the discipline and underline the narrative potential of archaeological objects.
The catalogue is on sale for CHF 25 (available at the Laténium shop or online).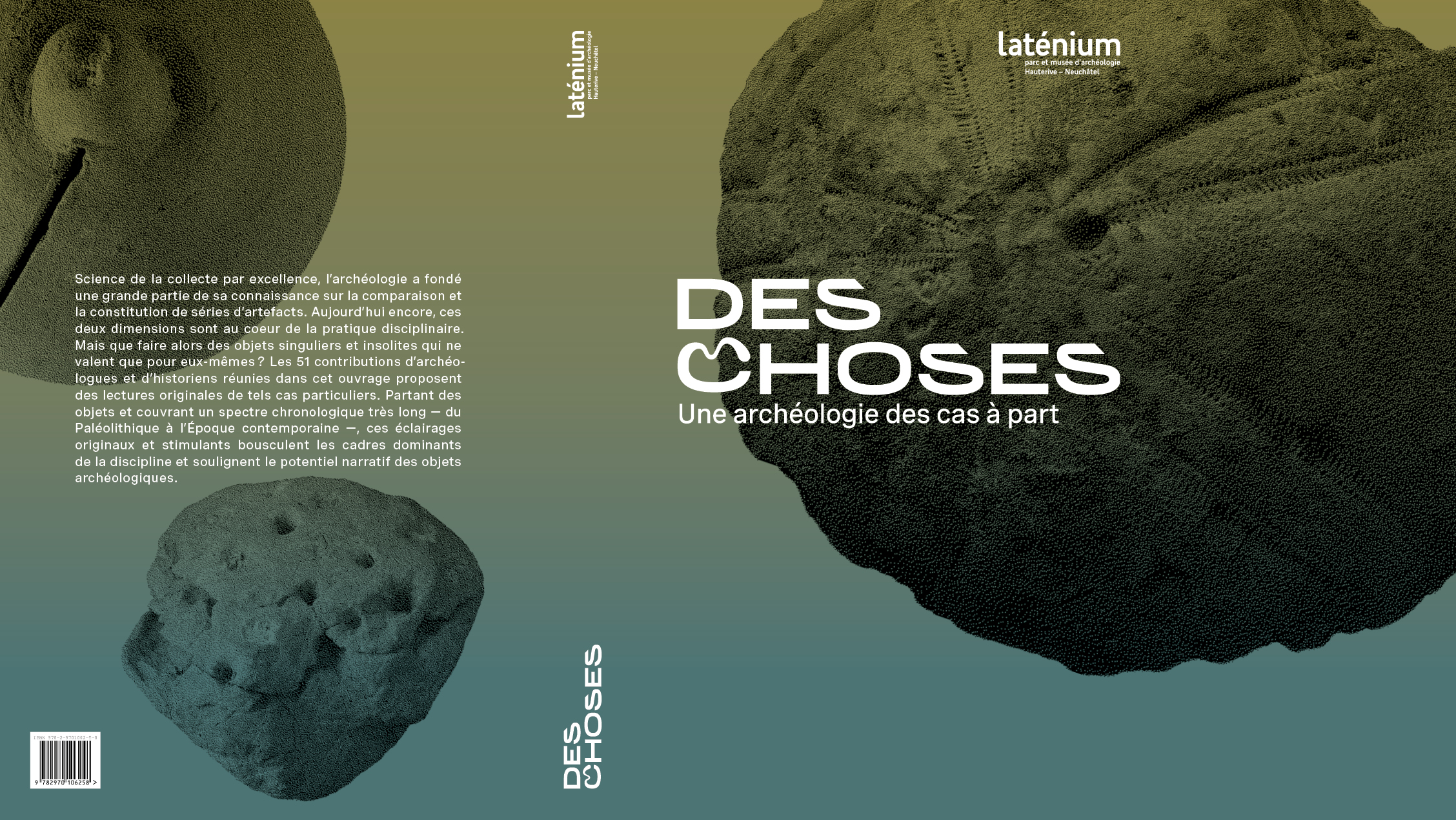 12h30 – RTS – "Des choses", la nouvelle exposition du musée archéologique du Laténium à Neuchâtel
Arcinfo – La nouvelle exposition du Laténium fait travailler l'imaginaire
RTN – "Des choses", la nouvelle exposition insolite du Laténium
Le journal – Canal Alpha – Le Laténium a plein de choses à vous montrer
Swissinfo.ch – Le Laténium évoque le pouvoir narratif des objets archéologiques
La Liberté – Le Laténium évoque le pouvoir narratif des objets archéologiques
Le Temps – Des objets insolites et déroutants pour redécouvrir l'archéologie
Écho Magazine – Quand les bizarreries du passé racontent l'humain
Bilan – Le Laténium de Hauterive présente "Des objets" de fouille pour raconter des histoires